Link Exchange
Send an email to the address below with the subject 'New Link'
Please also choose a category to add your site to from the links page. We don't link to anything non-sport related so don't waste your time asking.
Text link
Funny Old Game! Football Humour with Balls
Link to – http://www.funnyoldgame.net
Banners
(save them to your server and link to http://www.funnyoldgame.net)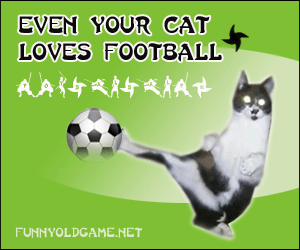 Advertising on funnyoldgame.net
Use the email above to ask about advertising on our site – make us an offer! Any football/sport related site would be accepted – absolutely no adult related sites please.
Also see the Adbrite advertising on the left column – a great way to get your site noticed! Click here
Google Advertising
We use google advertising on the site, if you own a website you should sign up to them and pay your hosting costs off – even small sites can do this! Use the link below to sign up.
Webmasters use AdBrite
For advertising on your site – then advertisers can pay for slots as often as they like. Click below to sign up: